Straight -Thin Hair Solutions (Katy's Korner)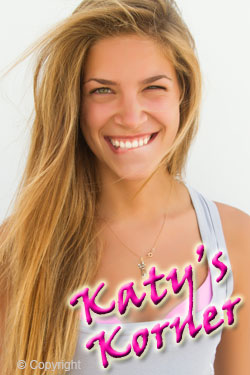 If you have straight hair and you're looking for a way to make your hair look better without much effort, I have some fantastic tips for you!
How to up your hair game when your hair is straight and thin:
I want to start out by saying that you never, ever want to tease your hair. Not only will this damage your locks, teasing it will make it look unnatural and outdated. It's almost impossible to get your hair "too big" when it's naturally straight unless you are matting it up by teasing it.
Try using a volumizing shampoo, then condition with a hydrating conditioner. You want your hair to be slightly oily even after you wash it out. Once you're out of the shower, dry your hair on low heat with a hair dryer. Don't ever use high heat! This will dry out your hair and cause it to break and breakage will make your hair look even thinner. While you're drying your hair, flip your head upside down so that your hair dries against the usual pull of gravity.
Once it's dry, you'll need to apply one of two things. If you have light colored hair, get out some baby powder. If you have dark hair, reach for some cacao powder. Sprinkle the applicable powder on your hair brush and start combing it through beginning at your roots. The powder should grab on to the oil in your hair. If it's not holding on to your hair, you'll need to add a little hair oil. This is also a sign that your hydrating conditioner is not doing its job. I've seen YouTubers brag about dry shampoo, but dry shampoo is just meant to absorb oil and won't make your hair drastically thicker. The cacao or baby powder will cling to the moisture in your hair and make it denser. Be sure to brush through your hair really thoroughly. You don't want a loose baby powder to fall out on your clothes!
Once that is done, curl your hair with a wide-barrel curling wand. I recommend a one-inch barrel for shoulder length hair or shorter and 1.5-inch barrel for anything longer. Curl your hair in many sections; even if you can get it all in less than ten strands, it won't give it the body you want if you don't curl small portions of the hair independently of each other.
Once your hair has a loose wave, flip it over and brush through it one more time lightly. The last step is to set it with a firm hold hairspray. Make sure that it is an aerosol spray and not a pump spray. Pump spray can dampen your hair and make it loose bulk.
Although I do have naturally thick hair, too many dark-to-light dye jobs have left my hair looking significantly less voluminous. I've tried many methods, but this one has given me by far the best results! I wish all you pretty ladies the best of luck and your best hair day yet! – Katy